Medical Centre Websites
Providing online services to Medical Centres across Australia and New Zealand. With both sponsored and paid website options available we offer a range of features and options that will fit any medical centre.
Professional Websites for Medical Centres
Bringing medical centres and patients together.
As a medical centre, it is important that your website is presented online in a professional manner. Your website is the primary representation of your medical centre online and you should not trust the credibility of your company on free website builders. The question should not be, "Can I afford to have a professional website?", it should be "Can I afford NOT to?"
We build our websites to be 100% responsive ensuring they work across all devices and provide a quality user experience with clear paths to action for your patients. We also ensure that the site is accessible and will work on screen readers for those with vision impairments and other disabilities.
It's a vital part of your practice
Your website is your primary presence online. It is vital that the major component of your online presence has a is professional and reflects your medical centre in the best possible light.
We can incorporate many features on your website which will help to reduce administrative staff time, from including patient forms and documents, booking systems and a multitude of features which can assist with the day-to-day of running a medical centre.
It is important that you build your website with an experienced developer so your website can grow as new technologies become available.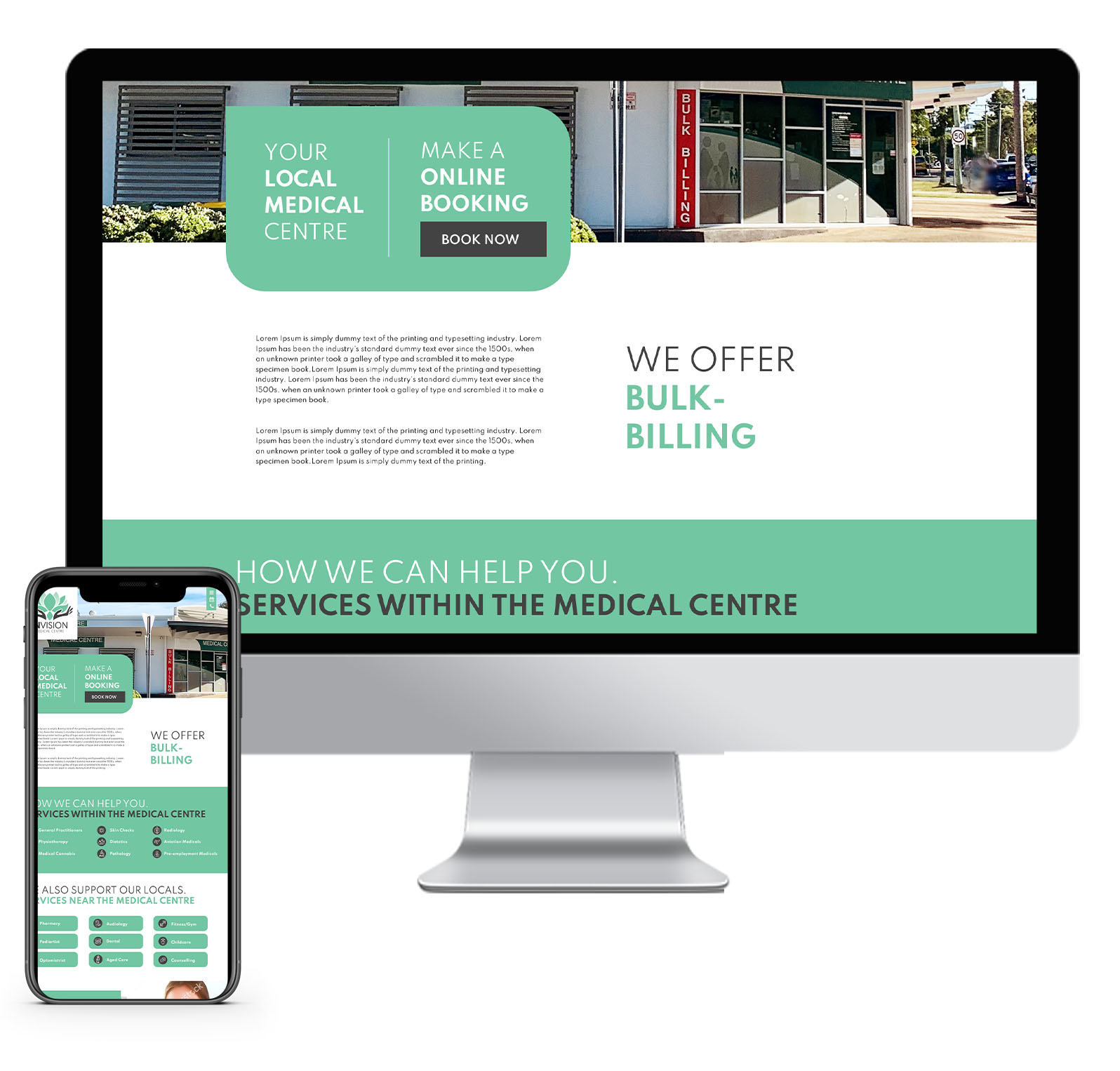 All of our websites are 100% responsive, they will feature well across mobile, desktop and tablets so all your website visitors can easily find what they are looking for and book an appointment with your medical centre.
Website Development Inclusions
100% Responsive design (for desktops, tablets and mobiles)
Unlimited pages (we will add up to 8 pages for you)
Up to date landing pages and paths for improved
conversion rates.
SEO optimised content and HTML
Integrations with social media platforms
Tracking via Google Analytics
Installation of Facebook Pixel
Well place calls to action and phone click to call
Contact Forms
 Complimentry Website Hosting & SSL
12 Months Free Website Hosting
12 Months Free SSL certificate
Professional Email (server based)
Optional Integrations
Facebook – for reviews and marketing
Instagram – for galleries
Mailchimp – for email marketing
ActiveCampaign – marketing
Our focus for any website is to present your business as you would like it to be represented and to generate appointments and reduce administration time.
Personalised Design
Our highly experienced graphic design team work with your brand to produce custom website designs.
Free Options Available
We are able to source sponsorship to cover the cost of producing your website so you don't pay a cent.
Support Local Business
Feature your preferred local businesses on your website and support your community.
Easy to Use
Our medical sites are easy to update and integrate with your preferred services.
100% Responsive
We make sure all of our medical centre websites are 100% responsive and work across mobile, tablet and desktop.
SSL Certificate
We include website hosting and an SSL certificate on all of our hosted medical centre websites.
Patient Friendly
We ensure that patients can find the information they require easily. With click to call buttons and information about your services and staff.
SEO Optimised Content
We ensure all of your content is optimised for search engines to improve your search engine rankings.
Integrations
Integrations with Social Media and other software is important to any business.